Anaheim Wall Graphics
Superior Signs and Graphics is a leading signage company that can provide all your needs when it comes to getting professionally designed and developed wall graphics. If you have particular areas in your business building that you want to decorate with beautiful murals or engaging visuals, we can do that for you. We can turn a long hallway into an attractive artwork that displays your company history or turn dull, white spaces into an appealing, dynamic place.
Regardless of the purpose you have for your Anaheim wall graphics, we are confident that we can provide every service you need to get them, from graphic design to manufacturing and installation. You can create any vinyl sign, wall sticker, or graphic for your business in all sorts of designs, sizes, and color variations, among other specifications.
If you don't know how to use this amazing product for your business, don't worry. Our experts are always ready to help you brainstorm the best ideas for designing your business interior and exterior with high-caliber Anaheim wall graphics.
Call Superior Signs and Graphics today at (714) 739-2855 for your Free Consultation with an Anaheim Wall Mural Expert!
Complete Design Control
Our Anaheim, CA sign company specializes in creating highly customized graphics for all purposes, including personalized wall murals for business use.
For this product, we always use the best samples of vinyl that we can obtain, ensuring that any letterings, shapes, logos, and graphics that you need will be visually attractive to your intended consumer base. This applies to all wall graphics that we can create, including large-format landscape murals and smaller individual cutouts.
If it happens that you have already installed your graphics and you change your mind about the designs, don't worry. These products are very easy to handle for our signage experts. We can smoothly and quickly remove and replace them with new graphics without damaging your walls. This feature is perfect not just for those who change their minds about their graphics but also for those who need to immediately modify their designs based on the demands of their business.
Full-Service Wall Vinyl Company
Do our clients need to have a fixed design already? Of course not!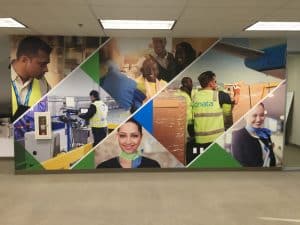 If you are still thinking about the designs for your walls, you can always ask our experts to help you figure out the best branded images, text, and other graphics that will work perfectly for your business. We can also go to your address to conduct onsite inspections so we can have more data to work on.
You can trust that the vinyl we will be using for your Anaheim wall graphics will be incredibly durable and long-lasting. This applies regardless of the finishing that you choose for them, such as high gloss or matte. This way, you can rest assured that your graphics will be able to carry out their intended function for the longest possible amount of time.
Professional Vinyl Graphics Installers
Because vinyl graphics are very easy to install on glass structures, many people install their graphics by themselves. However, if you want to ensure that they are installed without any sign of imperfection and if you don't want any hassle, it is best to leave the job to the experts.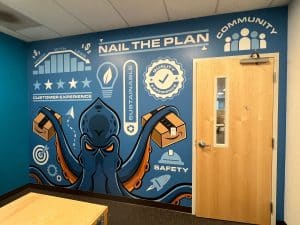 Rest assured that our team will leave your Anaheim wall graphics without any trace of bubbles, small creases, folding, or any damage for a fully professional look.
Superior Signs and Graphics is excited to work with you. We are confident that we can provide you with the best services related to graphics and signage products. Furthermore, if any kind of damage or imperfection is detected on your graphics, replacing them will be free of charge if you work with us.
This is also one of the most important benefits of getting a professional to do the installation of your signage and graphics products.

Free Wall Mural Consultation
At Superior Signs and Graphics, our highly-trained Anaheim wall graphics experts are always ready to dedicate their very best work to each of our clients. Because we offer the full range of signage products and services, we are confident that we can provide the best opportunities for you to achieve your signage all in the fastest, most effective, and most high-quality manner. Trust Superior Signs and Graphics for all your signs, and you won't regret your decision!
Call Superior Signs and Graphics today at (714) 739-2855 for your Free Consultation with an Anaheim Wall Graphics Expert!