Anaheim Vehicle Graphics
If you are looking for new ways to drastically improve your business's visibility, marketing, and, ultimately, your revenue, we got just the right product for you. Try our Anaheim vehicle graphics and see some amazing improvement in your promotional goals!
Superior Signs and Graphics is a leading signage company that specializes in producing graphics built for vehicle design. We have wide-format full auto wraps and partial wraps, as well as smaller cutouts in the form of vinyl lettering and magnetic graphics. Any product that you choose can be provided by our team regardless of the level of customization that you want to impose.
Indeed, your business can experience a big boost in sales just by wrapping your vehicle with high-quality graphics. Whether you use your vehicle to do your regular business operations or to have coffee on your break, it can effortlessly advertise your brand wherever you go. You can easily endorse your business anywhere, communicate important business information to the public, and continually expose people to your brand.




If you choose us as your full-service signage company, you will get access to every high-quality service that your project demands. We can do graphic design, product design, manufacturing, installation, and even repairs. Our experts are always ready to dedicate their best work to every client that we work with. They will be there to help you be in the know about every aspect of the project so we can assure you that you will be fully satisfied with the final output.
For all the high-quality Anaheim vehicle graphics that you need, Superior Signs and Graphics is here for you!
Call Superior Signs and Graphics today at (714) 739-2855 for your Free Consultation with an Anaheim Vehicle Graphics Expert!
Full & Partial Vehicle Wraps
Rest assured that Superior Signs and Graphics can provide you with the best vehicle graphics that the industry has to offer. We can easily transform your regular automobile into a moving advertising machine.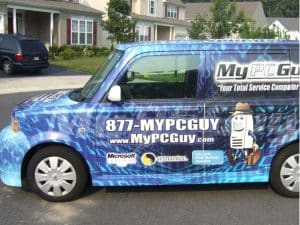 Among the many options available, covering the entire vehicle with graphics would be the statistically most effective option. With full wraps that cover every painted surface of your vehicle, you turn it into a visual tool for marketing purposes.
Aside from decorative and promotional purposes, adding vinyl graphics to your vehicle services also puts an extra layer of protection on your vehicles. Our vinyl graphics are made to be long-lasting and extremely durable, even against constant exposure to harsh sunlight or rain.
Let us know how we can effectively use graphics to communicate essential information about your business, such as your branded images, contact details, business names, and products and services that you offer. During the free consultation that we offer, we aim to know what information you want to express and how you want them to be displayed.
On the other hand, a smaller option would be partial vehicle wraps. This is a more cost-friendly alternative that allows our clients to focus on certain strategic parts of their vehicles' surface for promotional purposes. We can target your car's hood, bumper, tailgate, side panel, or only the back half of your vehicle to promote your brand and business. Let us help you figure out the best way to communicate your business information to the public, depending on your vehicle type, branding guidelines, and other important considerations.
High-Quality Vehicle Graphics & Lettering
For smaller graphics such as logos, taglines, and business names, you can choose our vinyl cutouts. They are much more cost-effective, using only more strategic areas of your vehicle for promotional functions. Whether you need vinyl lettering or vinyl images, we can help you plan out carefully how they will be designed and placed on your vehicle.
Full-Service Sign Company
Superior Signs and Graphics is more than happy to be the provider of everything you need from the signs and graphics industry. We are confident that our comprehensive set of services can satisfy every need that you have. We can do top-caliber product design, graphic design, signage manufacturing, installation, repair, and maintenance.
Our projects always begin with a free consultation during which our experts aim to obtain every important information about our client's vision for their project. We find the best solutions to ensure the durability, longevity, quality, and visual value of the products that we make for them by analyzing the information we get. So let us know all about your business, branding guidelines, project objectives, preferred schedule, budgetary limitations, creative ideas, and other helpful details.
After studying your business needs, we will create a mock-up of the final product. You can check this initial look so you can make any modifications, addition, or subtractions that you want according to your preference. In this way, we will not immediately proceed to the manufacturing process without first solidifying the design blueprints.
Once you have finalized the design plans, our technical experts will be in charge of the project. We have a fully capable manufacturing team that can fabricate any customized product without any sign of imperfection. We also have a seasoned team of installation experts that can settle your signs and graphics, whether on vehicles' walls, building windows, or other structures. Rest assured that the final product will be of the highest quality possible!
Free Vehicle Graphics Consultation
At Superior Signs and Graphics, we are passionate about producing Anaheim vehicle graphics that can impact the promotions and revenue of our clients. This is why we take special time to understand their specific needs during our free consultation. Furthermore, we also want you to feel as comfortable and relaxed as possible. So we always try to inform our clients about every aspect of the process, allowing them to stay informed about our work in the end. Our top priority is the satisfaction of our clients. Our Anaheim, CA sign company is the best option you can make when it comes to any signs and graphics needs that you have for your company.
Call Superior Signs and Graphics today at (714) 739-2855 for your Free Consultation with an Anaheim Vehicle Graphics Expert!