Anaheim Truck Wraps
Are you looking for a creative and impactful way to promote your business? Look no further than truck wraps! At Superior Signs and Graphics,
we understand the power of effective advertising, and truck wraps have become a popular choice for businesses looking to make a lasting impression on the go. Let's dive into the world of truck wraps and explore how they can elevate your brand visibility to new heights.
Call Superior Signs and Graphics today at (714) 733-1619 for a Free Consultation with a Truck Wrap Specialist!
High-Visibility Brand Marketing Tool
Truck wraps are more than just a means of transportation—they are high-visibility brand marketing tools that can take your
business to new heights. With their eye-catching designs and strategic placement of your brand elements, truck wraps turn your vehicle into a moving billboard that attracts attention wherever it goes. Whether your truck is parked in a busy city center, cruising down the highway, or making deliveries in residential neighborhoods, your wrapped vehicle commands attention and leaves a lasting impression on potential customers. It's a cost-effective and impactful way to increase your brand visibility, generate leads, and build a strong presence in the market. With a well-designed and professionally installed truck wrap, your business becomes a mobile advertisement that captures the attention of your target audience and sets you apart from the competition.
Grab Attention with Striking Designs
The key to a successful truck wrap lies in its ability to grab attention and leave a lasting impression. Our team of talented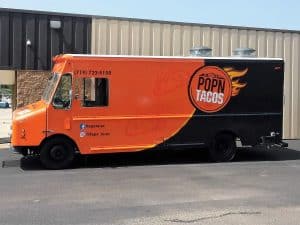 designers at Superior Signs and Graphics knows exactly how to turn your vision into a stunning reality. From eye-catching graphics and captivating colors to strategically placed contact information, our designs are tailored to make your truck stand out from the crowd. Whether you have a specific design in mind or need assistance in creating one, we'll work closely with you to ensure your truck wrap reflects your brand personality and captures the essence of your business.
Cost-Effective Advertising Solution
Compared to traditional advertising methods, such as billboards or print ads, truck wraps offer a cost-effective solution with long-lasting benefits. Once your truck is wrapped, it becomes a 24/7 advertisement that reaches potential customers wherever it goes. With no recurring costs or monthly fees, truck wraps provide ongoing exposure for your business without breaking the bank. It's a smart investment that delivers a high return on investment by maximizing your brand visibility and generating new leads.
Protection and Versatility
Beyond their advertising benefits, truck wraps also provide an additional layer of protection for your vehicle's original paint.
The vinyl material used for wraps helps shield your truck from scratches, UV rays, and other external elements, preserving its resale value. Moreover, if you ever decide to update your branding or messaging, truck wraps can be easily removed or replaced, allowing for flexibility and adaptability as your business evolves.
Why Choose [Company] for Your Truck Wrap Needs?
At Superior Signs and Graphics, we are passionate about helping businesses leave a lasting impression through striking and professional truck
wraps. We offer a wide range of customizable options to suit your specific needs and budget. When you schedule a free consultation with us, our team of experts will take the time to understand your business objectives, target audience, and design preferences. We'll guide you through the entire process, from design conception to final installation, ensuring that your truck wrap is nothing short of exceptional.
With our state-of-the-art equipment, high-quality materials, and attention to detail, we guarantee a seamless and precise installation that will turn your truck into a captivating advertising platform. You can trust us to deliver exceptional results that exceed your expectations and showcase your brand in the best possible light.
Don't miss out on the opportunity to take your business to new heights with a captivating truck wrap. Contact Superior Signs and Graphics today at (714) 733-1619 or visit our website to schedule your free consultation. Let us help you transform your truck into a powerful marketing tool that drives your business forward. Get ready to make heads turn and leave a lasting impression wherever you go!
Call Superior Signs and Graphics today at (714) 733-1619 for a Free Consultation with a Truck Wrap Expert!