Glendora Van Wraps
Are you looking for a powerful way to make your Glendora business stand out on the road? Van wraps are the answer! These vibrant and customizable vehicle graphics have become increasingly
popular among businesses of all sizes. Whether you have a single van or an entire fleet, van wraps offer a cost-effective and attention-grabbing advertising solution that can take your brand visibility to new heights.
Our commercial van wrap products include:
Complete Commercial Van Wraps
Partial Van Wraps
Magnetic Vehicle Signs
Perforated Window Privacy Film
Durable Custom Vehicle Graphics
Contact Superior Signs and Graphics at (714) 733-1619 today to schedule a free consultation and discover how van wraps can transform your business's visibility, boost brand recognition, and drive your success. Let's make your van an unforgettable ambassador for your brand!
What is Professional Van Wrapping?
Van wraps involve the application of high-quality vinyl graphics on the exterior of your commercial van. These wraps are designed to seamlessly conform to the contours of your van, creating a visually striking and professional appearance. With their customizable nature, you can showcase your brand's logo, colors, images, and messaging, turning your van into a mobile billboard that promotes your business wherever it goes.
Why do Businesses Employ Van Wraps?
Enhanced Brand Exposure: Van wraps transform your plain van into a moving advertisement that captures attention wherever it travels. By prominently displaying your brand elements, contact information, and key messages, you can increase your brand's exposure and reach a wider audience.

Increased Brand Awareness: The more people see your van on the road, the more familiar they become with your brand. Van wraps serve as a constant reminder of your business, helping to build brand recognition and trust among potential customers.

Mobile Advertising: Van wraps turn your van into a 24/7 advertising platform. Whether your van is parked in front of your business or driving through busy streets, it acts as a mobile billboard, exposing your brand to countless potential customers.

Professional Image: A well-designed van wrap instantly elevates the professionalism and credibility of your business. It gives the impression that you take pride in your brand and pay attention to detail, which can positively influence customer perception and trust.

Cost-Effective: Compared to other traditional advertising methods, such as billboards or print media, van wraps offer a long-lasting and cost-effective solution. Once installed, they can last for several years, providing continuous brand exposure without any recurring costs.
The Benefits of Van Wraps
Attention-Grabbing: Van wraps are designed to turn heads and capture attention. With their vibrant colors, eye-catching designs, and large format graphics, they create a memorable impression that sets your business apart from competitors.

Local Market Dominance: If your business primarily operates within a specific area or region, van wraps allow you to dominate your local market. As your van travels through neighborhoods, streets, and business districts, it becomes a familiar sight among local residents, establishing your brand's presence.

Flexibility and Customization: Van wraps offer limitless design possibilities. Whether you prefer a bold and colorful design or a sleek and minimalist approach, professional designers can bring your vision to life. You can tailor the wrap to align with your brand identity and marketing objectives.

Protection for Your Vehicle: Beyond their advertising benefits, van wraps also serve as a protective layer for your vehicle's paintwork. The vinyl material safeguards the original paint from scratches, minor dings, and UV damage, preserving its resale value.

Removable and Non-Damaging: If you need to update your branding, change promotional messages, or sell your van in the future, van wraps are easily removable. They can be safely removed without leaving any residue or damaging the underlying paint, providing flexibility for your business.
Get Noticed with Professional Van Wraps
Ready to turn your van into a powerful marketing tool that drives your business forward? [Company] offers top-notch van wrapping services that are tailored to your unique needs. Our team of
experienced designers and installers will collaborate with you to create a stunning van wrap design that reflects your brand's personality and captures attention on the road.
Your One-Stop Solution for Outstanding Van Wraps
At Superior Signs and Graphics, we take pride in being your full-service van wrap provider. From the initial consultation to the final installation and beyond, we handle every aspect of your commercial van wrap journey with meticulous care and attention to detail.
During your free consultation, our team of experts will sit down with you to understand your goals and objectives. We'll discuss your brand identity, target audience, and key messages to ensure that your van wrap captures the essence of your business. Drawing on our extensive experience, we'll provide valuable recommendations on design elements and materials that will maximize the impact of your van wrap.
Once we have a clear vision of your project, our talented designers will create a draft design that brings your ideas to life. We'll provide you with a visual representation of how your completed wrap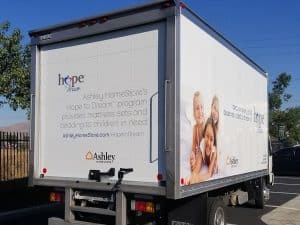 will look when installed on your van. Your input and feedback are crucial during this stage to ensure that we meet and exceed your expectations.
Once the design is approved and all the details are triple-checked, our skilled production team will bring your wrap to life. We use state-of-the-art equipment and high-quality materials to produce all the components for your custom wrap right here in our facility. This allows us to maintain strict quality control and deliver outstanding results.
When it's time for installation, we'll schedule an appointment at our convenient on-site sign shop. Our experienced technicians will meticulously apply your van wrap, paying attention to every detail to ensure a flawless finish. We take pride in our craftsmanship and go the extra mile to make sure your wrap looks professional and eye-catching.
Even after installation, our commitment to your satisfaction doesn't end. We're always available to address any future repair needs you may have, whether it's for a minor touch-up or a complete wrap replacement. We understand that businesses evolve, and if you ever need to update your graphics or business information, we're here to help you make the necessary adjustments.
Don't wait any longer to transform your vans into powerful marketing tools that drive attention and generate leads. Schedule your free consultation with [Company] today and experience the excellence of our full-service van wrap solutions. Your success is our priority, and we can't wait to bring your vision to life!
Schedule Your Free Consultation Today!
Are you ready to take your business to the next level with professional van wraps and commercial fleet wraps? Look no further than Superior Signs and Graphics! Our team of experts in Glendora is dedicated to helping businesses like yours make a lasting impression on the road.
Don't miss out on the opportunity to turn your vans into powerful marketing tools that attract attention, enhance brand visibility, and drive more customers to your doorstep. Schedule your free consultation today and let our experienced designers and installers guide you through the process of creating stunning van wraps that align with your brand's identity and objectives.
From eye-catching graphics to flawless installation, we handle every step of the process with meticulous attention to detail and a commitment to delivering exceptional results. Whether you have a single van or a fleet of commercial vehicles, we have the expertise and resources to handle projects of any scale.
Take the first step towards transforming your vans into mobile billboards that dominate the streets of Glendora. Contact us now to schedule your free consultation and discover how our van wrap solutions can elevate your brand's visibility and make a lasting impression on your target audience.

Let Superior Signs and Graphics be your trusted partner in unleashing the full potential of your commercial vans through professional van wraps and commercial fleet wraps. Don't wait—call us today to secure your spot and unlock the power of mobile advertising!